This week was a week of firsts for me. I made my first project on a sewing machine (picture to come later).
I finished my first shawl, and also my first project with mohair! I cannot believe how warm this shawl is, its so light and airy that I was curious if it would just be for show, but its definitely warm!
Pattern is
Aunt Phebe's Comfort Shawl
. VERY easy. I wish I had made it a little bigger, but I have yarn left over and may make another one as a gift.
Made with about 1 1/2 skeins of Marvelous Mohair in the Dead Squirrel Color
Mods: None. This pattern is so easy and quick as it is, I didn't have time to think about making changes to it.
Another first, I ran in my first bikini race! I did NOT run in a full bikini. Charlotte and I ran in bathing suit tops and running shorts, and even then, my bathing suit top was a very sporty top and actually felt like a sports bra, so it wasn't too bad for me. There were people who were in full bikinis though, and some guys in speedos! I ran an awful time, which was a letdown after my incredible race a few weeks ago, but it was fun... despite being 86 degrees and humid. It was one of those runs where I pray for rain. I won't flash a bunch of pictures for you, except this one, which I laugh at every time I look at it. I think I was fixing my shuffle, but it looks like someone slapped me in the face!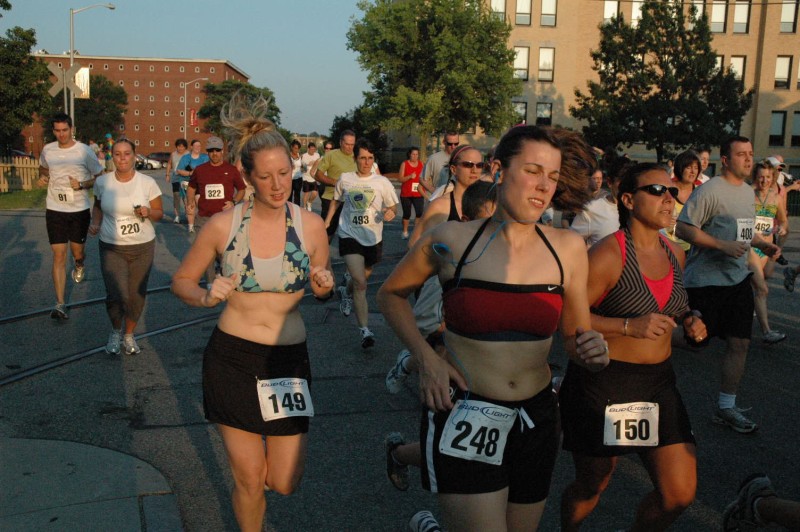 Yesterday I finished my Coquette Tube Top, but it needs to be blocked before I'm ready to show it off. I knitted a bunch of it at the lake on Saturday with Erm's family. So I leave you with another first... my first time knitting on the water.